05/02/2017 by
iRobot Corp. (NASDAQ: IRBT), a leader in consumer home robots, today extended the benefits of cloud-connected cleaning with the launch of the Roomba® 890 and Roomba 690 Wi-Fi connected vacuuming robots. iRobot also announced the immediate availability of an Amazon Alexa skill for U.S. customers of Wi-Fi connected Roomba vacuuming robots.
"Expanding the benefits of connectivity from our top-of-the-line Roomba 900 Series through our popular Roomba 800 and 600 Series robots gives more of our customers the opportunity to experience the added functionality and control our connected app gives our robots," said Colin Angle, chairman and CEO of iRobot. "This is an important next step in making the benefits of smart home technology available to everyone."
Connect To CLEAN From Anywhere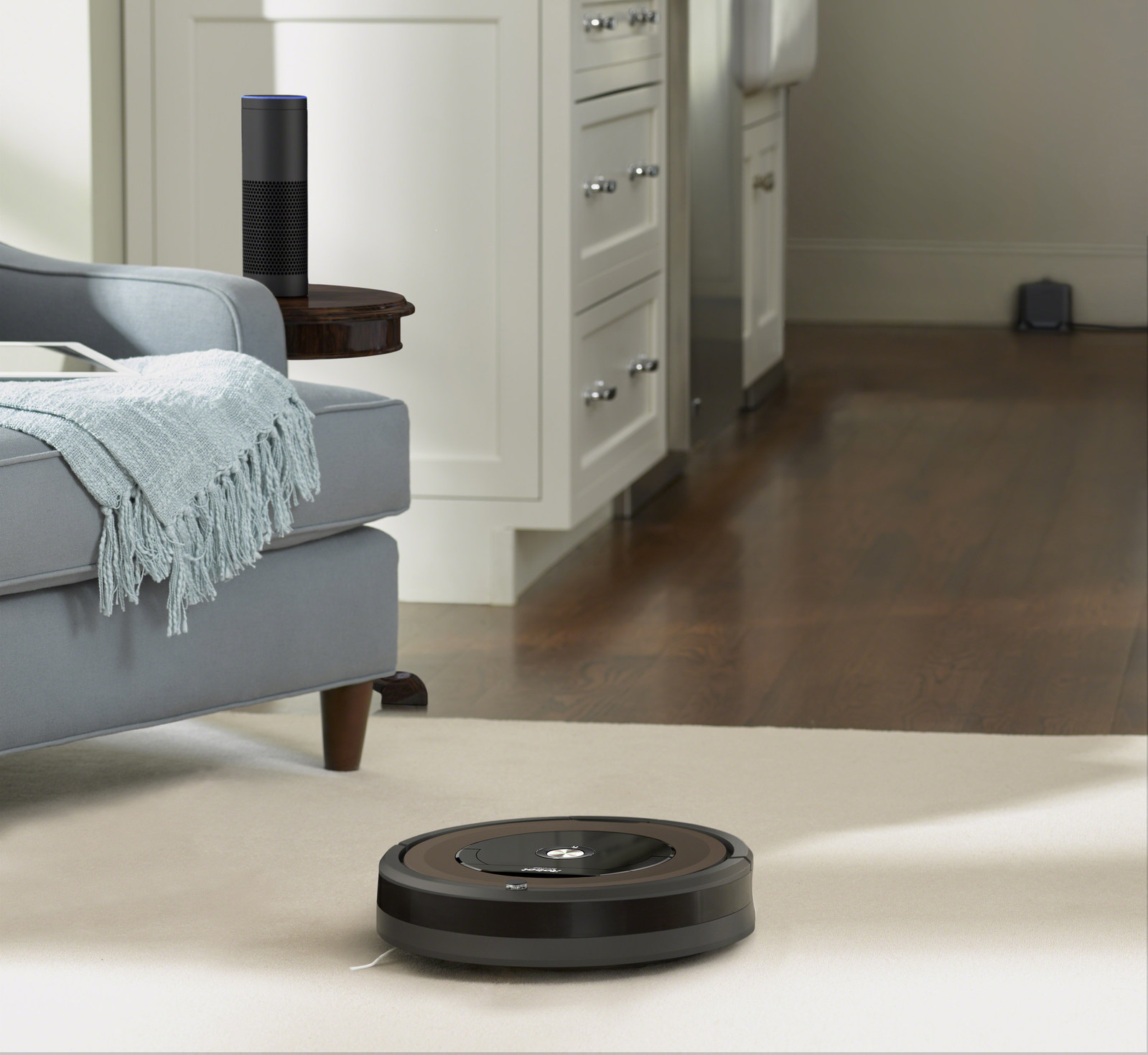 With the iRobot HOME App, the Roomba 890 and Roomba 690 Wi-Fi connected vacuuming robots are ready to clean on demand from anywhere, anytime. Each model can be scheduled to clean up to seven times a week from the familiar mobile device interface, which is available for Android and iOS devices. The iRobot HOME App also provides information about cleaning status, customized tips and direct access to customer support.
For those who feel like they're in a never ending battle with pet hair, the Roomba 890 Wi-Fi connected vacuuming robot – like the company's most advanced Roomba 900 Series vacuuming robots – features dual, counter-rotating Tangle-Free Extractors. These extractors are made of durable rubber tread that grabs dirt and hair from any floor type, while reducing hair tangles and brush maintenance. A full suite of sensors and low profile design enables the Roomba 890 to navigate under furniture and around clutter. A Gen 2 motor produces 5x the air power over previous generation Roomba vacuuming robots1, while the patented AeroForce 3-Stage Cleaning System uses a combination of agitation, extraction and suction to efficiently move dirt and debris from the floor to the dustbin. At the end of its cleaning job, Roomba 890 returns to its charging station to recharge.
As a successor to the Roomba 650, the Roomba 690 Wi-Fi connected vacuuming robot allows customers to experience the luxury of automated cleaning at a more affordable price. Starting at $375, the Roomba 690 gets to work, seamlessly navigating around clutter and under furniture. As with the Roomba 800 and 900 Series, the Roomba 690 uses a patented 3-Stage Cleaning System to efficiently clean carpet, rugs and hard floors. At just 3.6" tall, the Roomba 690 fits under most furniture and kickboards, so dirt has no place to hide.
"Adding Wi-Fi connectivity and iRobot HOME App support to our Roomba 890 and 690 vacuuming robots enriches our customers' interaction and experience," said Christian Cerda, COO, iRobot. "We've built customer centric features directly into the app - from scheduling cleaning jobs, to notifications and direct access to customer support – allowing for more customized, powerful cleaning assistance, every day."
"Alexa, ask Roomba to begin cleaning"
Want cleaner floors and carpets? Just ask! All Wi‐Fi connected Roomba vacuuming robots are now compatible2 with Amazon Alexa devices, including Amazon Echo, Echo Dot, and Amazon Tap. Simply ask Alexa to start, stop, or dock the robot. Customers can enable the Roomba skill by saying, "Alexa, open Roomba." This is just one of the exciting new features in the iRobot HOME App, now available on the App Store and Google Play.
Pricing and Availability
The Roomba 690 is available for purchase immediately in the U.S. for $375 on www.irobot.com and will be available in major retail stores beginning later this quarter. The Roomba 890 will be available in the U.S. in late Q2 2017. The Roomba 690 and 890 vacuuming robots will also be available in international markets beginning in late Q2 2017.
The iRobot HOME App is available now for Android and iOS devices. The Roomba skill for Alexa is available immediately for U.S. customers with Wi-Fi connected iRobot Roomba vacuuming robots2. The Roomba skill can be enabled by saying, "Alexa, open Roomba," or by selecting the Roomba skill in the Alexa app and signing in with your iRobot account to link your robot.