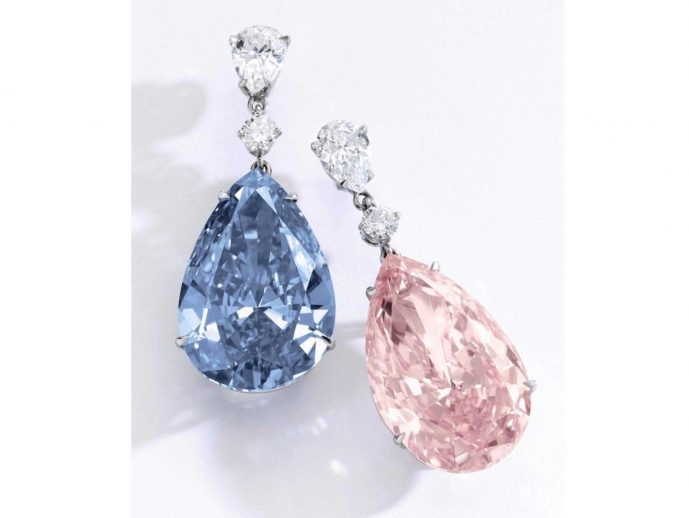 2017 will go down in the record books as "the year of the fancy colored diamond," says Michael King, Director of Trading for Paragon International Wealth Management, a Toronto-based firm that specializes in advising clients on adding fancy colored diamonds to their investment portfolio.
A pair of fancy colored diamond earrings set a new auction record this week on May 16th, selling for $57.4 million at Sotheby's Geneva Magnificent Jewels and Noble Jewels sale.
The mismatched pair of diamonds -- one pink and one blue -- were auctioned in separate lots, but were both sold to the same anonymous buyer.
The pear-shaped diamonds were named for the Greek deities and twin brother and sister Apollo and Artemis. The 14.54-carat "Apollo Blue" sold for $42.1 million and the 16-carat "Artemis Pink" for $15.3 million. As a pair, they set a record for the most expensive earrings ever sold at auction. The prior record-holder was the Miroir de l'Amour earrings, which sold for $17.6 million through Christie's in 2016.
"The Apollo is a true collector's gem," said Paragon International Wealth Management's Michael King. It's the largest internally flawless fancy vivid blue diamond ever auctioned. Less than 0.1 percent of diamonds have any blue coloring, and only a very small percentage of those are graded Fancy Vivid Blue, according to the Gemological Institute of America (GIA). The Artemis Pink is "the most chemically pure type," according to GIA.
King and his colleagues at Paragon International Wealth Management had predicted high buyer interest in the pink and blue earrings earlier in May and cited the record-breaking sale of the "Pink Star" diamond for $71.2 million at Sotheby's in April 2017.
King said that buyer interest and demand for fancy colored diamonds in the investment marketplace remains strong.
"In the last five to 10 years, the price seems to be escalating rapidly," David Bennett, worldwide chairman of Sotheby's International Jewellery division, told CNBC. "Certainly people who own important colored diamonds are aware that the market is strong."