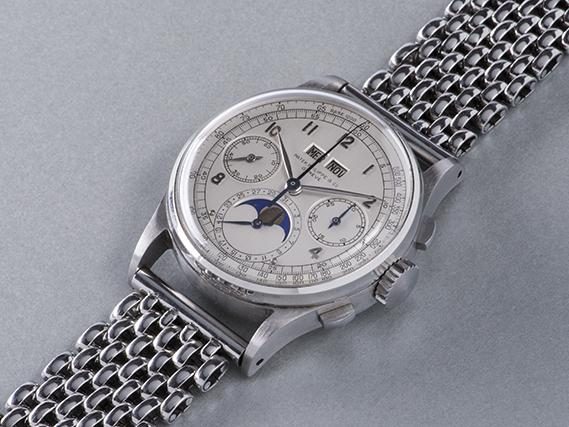 A new world record has been set over the weekend when its most expensive wristwatch was sold for $11 million. Patek Philippe in Association with Bacs & Russo just auctioned off its most expensive wristwatch at Geneva auction.
Patek Philippe is known across the globe for its classiness and quality. The wristwatch was manufactured by Patek Philippe & Co in Geneva, a Swiss manufacturing founded in 1851. It designs and manufactures timeless pieces including some of the priciest and complicated mechanical watch.
Patek Philippe Ref. 1518 was auctioned off and bidding started at around $3 million. The most expensive wristwatch is a stainless steel, rare perpetual calendar chronograph with moon phases. 10 minutes after the bidding started, the bidding ended at 9.6 million Swiss francs, about $9.7 million in US dollars. Including the buyer's premium, the total price of the watch ended at 11, 002,000 Swiss francs or $11,136,642.
The sale beats the previous world record of $7.38 million or 7.3 million Swiss francs. Last year, a Patek Philippe Ref.1518 was sold at the only watch charity auction in 2015. The stainless steel wristwatch was the biggest lot in the auction, according to Paul Boutros head of watches for the Americas Philips Bacs & Russo. The sale is a once in a lifetime event for watch collectors as 1518 in stainless steel is the number one out of the only four known to exist. Philippe 1518 was made in 1941, and it was the first perpetual calendar chronograph watch produced in series by any manufacturer. There are seven bidders fighting for 1518, and a private collector won.
The Patek Philippe Ref. 1518s in yellow gold and rose gold were also sold in the auction. It is the first time that all three case metals of the model have also been auctioned. The rose gold version fetches 1,474,000 Swiss francs while the yellow gold was sold for 598,000 slightly higher than the estimated price of $515,000.
Aside from the Patek Philippe wristwatches, another watch was sold. The rose gold Rolex Ref. 3330 chronographs made in 1941, nicknamed the "Perfect Rose" and never worn was sold for 598,00 Swiss francs. With the buyer's premium included, the total price is $749,640.
The total sales realized in the auction including buyer's premium 27, 513, 625 Swiss francs or $27, 598, 075.32.