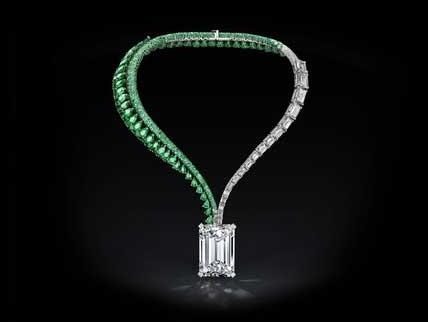 Industry records were broken as Christie's auctioned de GRISOGONO's ground-breaking necklace, 'The Art of de GRISOGONO, Creation 1', at the landmark Magnificent Jewels sale in Geneva, with the necklace achieving the price of CHF 33,500,000 / US$ 33,701,000.
This breath-taking masterpiece, designed by Fawaz Gruosi, Founder and Creative Director of de GRISOGONO, features a 163.41-carat Flawless D-Colour diamond, cut from the historical 404-carat diamond. This was extracted from the Lulo mine in Angola by the listed Australian mining company, Lucapa Diamond Caompany.
This marks a new milestone for de GRISOGONO and is the largest ever emerald-cut diamond offered at auction.
The sale breaks the previous record price for a D Flawless Diamond which was US$30,600,000.
The 404-carat rough diamond was acquired from the Lulo mine by de GRISOGONO's strategic partner, international rough diamond trader Nemesis, who granted the marketing rights of this incredible stone to de GRISOGONO. This allowed Fawaz Gruosi to guide the process from the cutting of the rough stone to the sublimely luxurious, finished High Jewellery necklace. The final design was chosen in February 2017, in keeping with de GRISOGONO's daring creativity, whilst simultaneously being fit for such a significant stone. 14 highly-skilled artisans spent 1,700 hours creating this astonishing necklace.
This diamond has impeccable credentials, entirely traceable from mine to masterpiece and compliant with the Kimberley Process certification authority. The 163.41 carats emerald-cut diamond has been certified by the GIA, the world's foremost authority on diamonds, coloured stones and pearls.
Commenting today, Fawaz Gruosi, said:
"This auction marks a high point for de GRISOGONO and the team that have worked so tirelessly to bring this incredible stone to life in this beautiful piece, Creation 1. This is the largest emerald-cut diamond ever to come to auction and so it was uncharted territory. I am truly privileged to have had the opportunity to work with a historic stone of such perfection and would thank everyone who has taken part in this beautiful journey from mine to masterpiece."
As part of a long term commitment that de GRISOGONO's partner Nemesis is making towards local communities in mining areas, Nemesis will be donating 1% of the hammer price from the sale of 'Creation 1' to the foundation Fundação Brilhante (http://www.endiama.co.ao/en/the-endiama-group/brilliant-foundation/brilliant-foundation-the-social-face/49 ). Fundação Brilhante is dedicated to championing positive social change in the areas surrounding mines in Angola and has committed to using the donation to support the construction of a primary school and health centre in the vicinity of the Lulo mine.
A short documentary can be viewed at https://theartofdegrisogono.com/ , which demonstrates the various stages involved in the piece's crafting and de GRISOGONO's inimitable expertise.