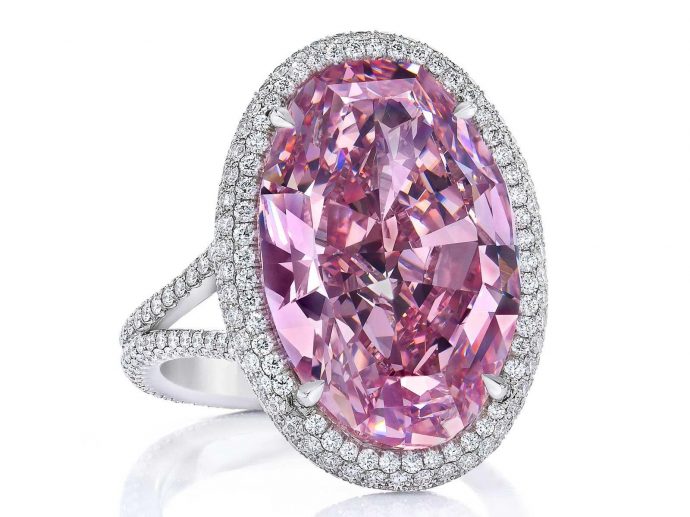 The highlight of Christie's Magnificent Jewels Hong Kong auction, a 14.93 carat Fancy Vivid pink diamond, sold for $31,861,000, a world-record per-carat price for any pink diamond over 10 carats. Known as "The Pink Promise Diamond," the stone is certified as Fancy Vivid Pink diamond, the most prized color grade of all pink diamonds. The sale of the Pink Promise diamond represented a lucrative gamble for its previous owner, diamonteer and haute jeweler Stephen Silver. Mr. Silver recut a 16.21 carat Fancy Intense pink diamond in a quest to achieve the stone's maximum color potential, and the risky recutting process led to "The Pink Promise" and its world-record auction sale.
Stephen Silver bought the original 16.10 carat Fancy Intense pink diamond in June of 2013, but noticed that the stone's cut made some areas of the stone appear to be washed out. He considered this an opportunity to recut the stone and possibly achieve a higher color grade. Over a period of three years, Mr. Silver worked with a master gem-cutter to carefully plot a new cut for the ultra-rare Type IIa pink diamond, cutting it down facet by facet to save the most carat weight while coaxing the gem to yield the highest possible color. The process gambled millions of dollars in lost carat weight if the recut stone failed to raise its color grade as hoped. Finally, a new GIA certificate affirmed that "The Pink Promise" diamond, with its new weight of 14.93 carats, had achieved a Fancy Vivid pink color grading and a significantly higher appraisal value. The ultra-rare Type IIa Fancy Vivid pink diamond was also assessed with an VVS1 clarity—the grade just under flawless.
Over his career, Stephen Silver has cultivated a reputation amongst international color gemstone collectors for his ability to procure, design, and handcraft the world's finest jewelry and gemstones. Mr. Silver has worked with (and re-imagined) some of the most coveted stones in the world, including a Fancy purplish red diamond ("The Cranberry"), a Fancy Vivid orange, "The Million Dollar Pumpkin"(as seen on the Today Show), and Fancy Vivid blue diamond, each ranging from 1 carat – 6 carats in size.
"The Pink Promise" represents the next benchmark in Mr. Silver's gemological career, and his largest and most valued stone acquisition project to date. Remarking on "The Pink Promise" and its historic sale, Stephen Silver commented:
"The work we did on this particular diamond was the most challenging recut in which I have been involved, due to the technical difficulty and large financial risk. It is a privilege, however, to work with a world-class team and have my name associated with one of the world's great gemstones."